Pet Memorial Products (Cats)
Tealight Brass Pet Cremation Urn
Made of handcrafted solid brass with a dark midnight or tan tone and brushed pewter accents. Light a candle for your beloved pet. A hand-engraved trail of paw prints playfully ascends the side of the urn.
$85.00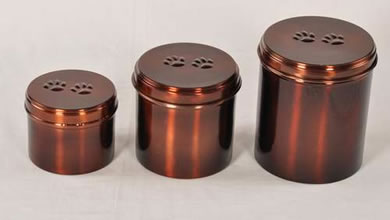 Basic Paw Print Can Urn
Available Sizes: Small, Medium, Large
Price: Included with Semi-private Cremation Service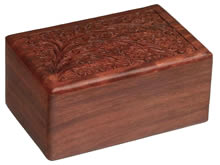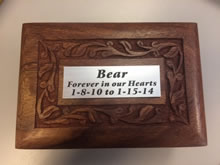 RWB1 - Rosewood Urn
Hand-carved rosewood urn box with individually carved "tree of life" design.
(Name plate additional charge)
Price: Included in Private Cat Cremation Service
Without Cremation Service: Extra Small 15.00, Small 20.00, Medium 25.00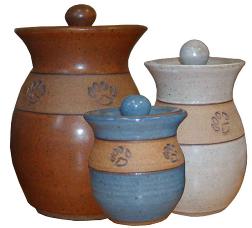 Ceramic Pottery Paw Print Urn
This ceramic pottery paw print urn comes in three sizes:
Small : 0 to 39lb
Medium: 40 to 75lbs
Large : 76 to 130 lbs
Colors Available: Blue, Caramel, and Oatmeal
Price: Small $36.00 Medium $42.00 Large $48.00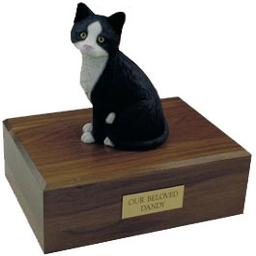 TR200 - Figurine Urn
Specify: Breed/Color, Wood Species, and Engraving Instructions
Price: S-$119.95 M - $129.95 L-$135.00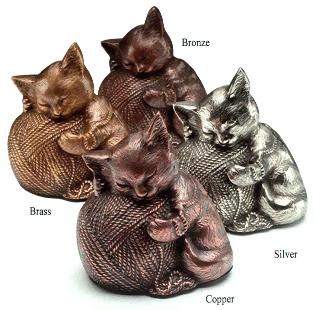 B1463 - Sleeping Kitty w/Ball of String
Sleeping kitty with yarn ball pet urn. Felt lined base. Opens at the base and securely closes. Dimensions: 6.25" x 6.5" x 4" Specify: Brass, Bronze, Copper, Silver
Price: $50.00
B1465 - Precious Kitty
The Sitting Cat Urn is made of pure metal and features an elegant pewter finish. This cat urn features an adorable seated cat Standing at 7 1/2" tall, the sitting cat urn will go great in any area of your home. Although your pet is no longer with you, its image will stay permanently with your home. Specify: Bronze, Silver, or Copper
Price: $50.00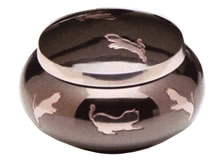 B1707 - Leaping Cats
"Leaping Cats" kitty urn in brass with shiny black color and leaping cat design encircling the urn. Available in small, medium & large

Price: S- $50.00, M- $55.00, L- $65.00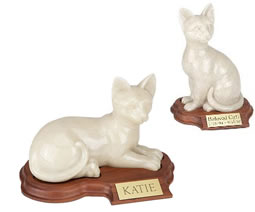 Faithful Feline w/Walnut Base and Name Plate.
Take your beloved pet home in a Faithful Feline figurine urn. These "hollow" cat urns are made from a mixture of granite stone particles and durable resins to form a beautiful in-home memorial container for your beloved pet's ashes
Specify: Laying or Sitting , and Engraving Instructions.
Price: $119.95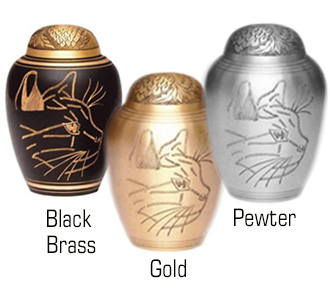 B1576 - Hand Engraved Kitty Urn
Hand etched solid brass urn meant just for a cat! This urn requires no maintenance and secures with a threaded lid.
Finish Available: Brass or Black/Brass
Price: Small $45.00 - Medium $50.00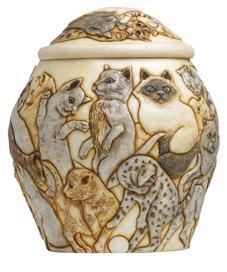 Cats Galore
A scenic cat keepsake urn made from crushed marble mixed with resin. An ideal in home memorial, perfect for the mantle or curio cabinet.
Price: 65.00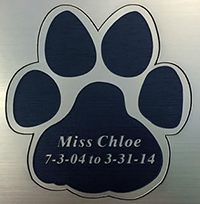 Engraved Plates
Square Edge or Rounded/Soft Edge
Available in Silver or Gold
Price:
1 lines $15
2 lines $18
3 lines $20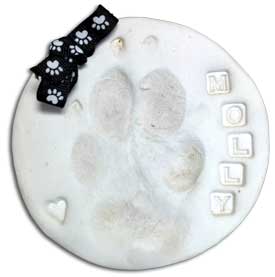 Clay Paw Print
This white clay paw print will be stamped with your pet's paw print and name.
Price: $15.00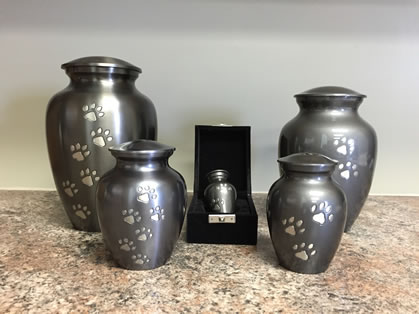 B1651 - Paws To Heaven
Available sizes:
Price: Heart - $45.00, Keepsake - $38.00, Extra Small - $45.00, Small - $50.00, Medium - $55.00, Large - $60.00
​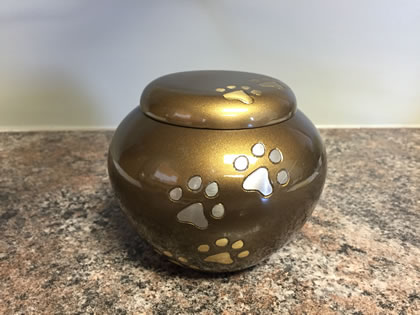 Bronze Round Paw Print Small Brass Pet Cremation Urn
The Bronze Round Paw Print Small Brass Pet Cremation Urn is made of handcrafted solid brass with a bronze tone finish and brushed pewter and brass accents.
$50
Cat Paw Prints Laser Engraved Nameplate Red Alder Wood Pet Cremation Urn
A simple and elegant cremation urn to memorialize your faithful friend. Made of solid red alder wood and laser engraved.
$65.00